AJITOACTIVITYOPTION & FOODACCESS & TOURISMRESERVATIONMOVIE
Make it not just an ordinary sightseeing but "extra"ordinary sightseeing,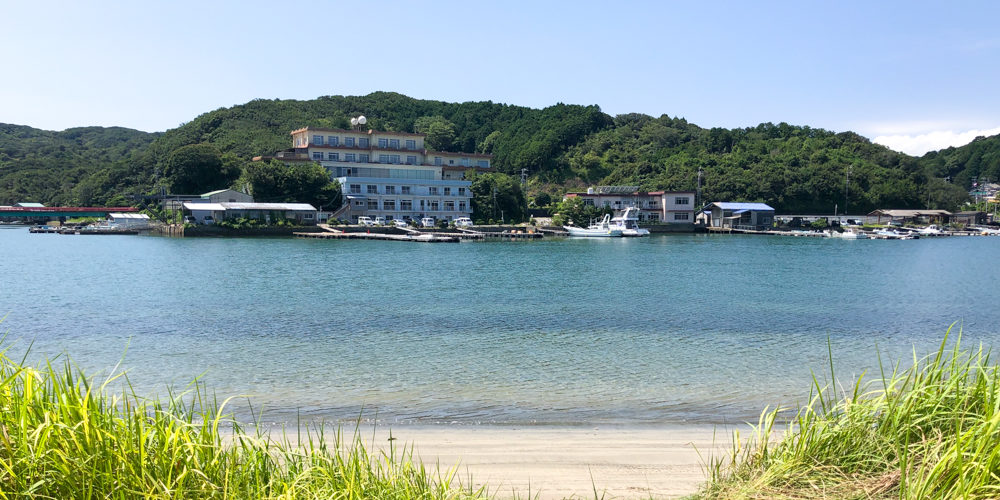 Anchor. located in a fishing-village that is famous for oyster farming and unique woman diving fishery.
Here there is abundant nature and its bounty that you cannot receive in a city.
We provide fishing and other marine activities such as Kayak and fishing, but also unique Fisherman-village activity that is collaborated with local fishermen and giving you an opportunity to experience the real harvesting situation.
Please find yourself to be touched, pleasured or happy by experiencing the uniqueness of the local fisherman-village.
Winter Activity Summer Activity Sea-Firefly watching Marine Activity 
Fishing-Village Activities
Anchor. offers you many unique "Fishing-village" activities by collaborating with local attractive fishermen.
For example, hopping on to the fishing boat and cruising to the oyster farming raft floating in the middle of the bay. Or harvesting super fresh sea kelp or other seaweed called "Akamoku. Of course do not forget to taste your fruits after all.
We value the uniqueness of this land and would like you to experience that you can only have here.
We are able to organise an original plan upon your request. For example, a soft self-sufficient life, memorial trip with mates, corporate training camp, company retreat and etc.
Please take a look at the model plans and feel free to contact us for more.
【How to make a reservation】
In order to confirm your reservation, we need to ensure the availability of the local fishermen ahead. Therefore please fill out your preferable starting time and numbers of participants.
Please be advised that booking in advance is preferable as we may not be able to take your booking in last minutes.

Cancellation fee won't be charged if rain is forecasted for the arrival day by the noon of the day before.
当Please be reminded that cancellation fee will be changed for the cancellation on the arrival day due to the required preparation in advance.
Depending on the fisherman's decision on the condition of the ocean, the tours or activities may be cancelled even in the middle.
Please understand our decision to ensure the guests' safety.

---
Oyster farm raft cruising
Get on board a fishing boat and take you on a cruise to the oyster farm raft floating in the ocean of Ise-Shima.
Once reached there, you can take a look and touch a pile of oysters (we call them "Oyster mansion") which is hanging the raft under.
Do not miss out tasting the fresh oyster that you harvest on your own. The local fisherman will support you to cook your own oyster to your preferred way such as steamed oyster and grilled oyster.
"Happiness" would spread out in your mouth, when putting the oyster, for sure!
Recommended seasons:From November to March
Charges:Adults: ¥4,000+tax / person/Kids(age:6-13): ¥3,000+tax / person
(Experience tour + few oysters each for tasting)
*Available above 6 years old
*Minimum passenger count:From 6 passengers
---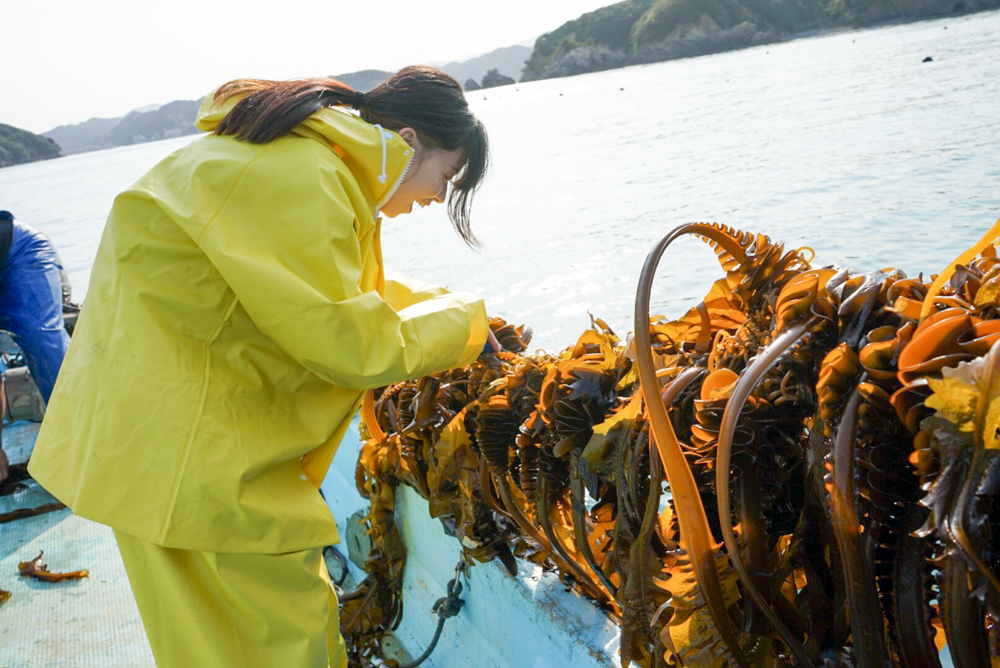 Harvesting WAKAME Cruising
Cruising to wakame (sea-kelp) cultivated area with a fishing boat !
Have you harvested the bottom of the sea-kelp before?
They are rare to eat (as never valued in the market) so it is definitely a unique experience for you.
Freshly harvested sea-kelp is not like what you have known of it (if you have a negative image on it). This is definitely worth a try. Totally different texture.
It can be served with SHABUSHABU-style (a kind of Japanese hotpot style dish).
Just grab and take a big bite of the sea-kelp stem, just like a T-bone steak!
Recommended seasons:From mid-November to March
Charges:Adults: ¥3,500+tax / person/Kids(age:6-13): ¥2,500+tax / person
(Experience tour + few wakame each for tasting)
*Available above 6 years old
*Minimum passenger count:From 6 passengers
---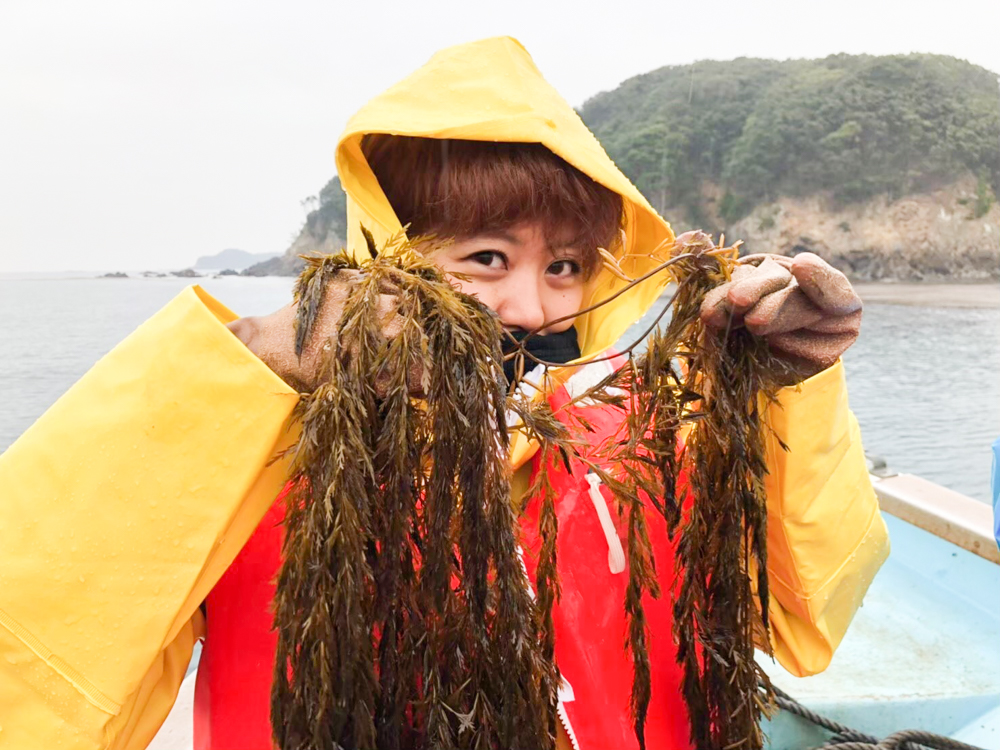 Harvesting AKAMOKU cruising
Akamoku is a kind of sea-weed that is rich in nutrients and has an addictive texture. This tour is a cruise for harvesting such a popular food.
During the tour, local fishermen are happy to teach you how to cook Akamoku. For example, dipping some citrusy vinegared sauce, adding in a bowl of local Ise-Udon, eating with rice or for a Miso-soup.
It becomes one of the great ingredients to try during your stay. You can even take them home after being cooked and frozen as souvenirs.
You may become healthier after all.
Recommended seasons:Mid-February to Mid-April
Charges:Adults: ¥3,500+tax / person/Kids(age:6-13): ¥2,500+tax / person
(Experience tour + few akamoku each for tasting)
*Available above 6 years old
*Minimum passenger count:From 6 passengers
---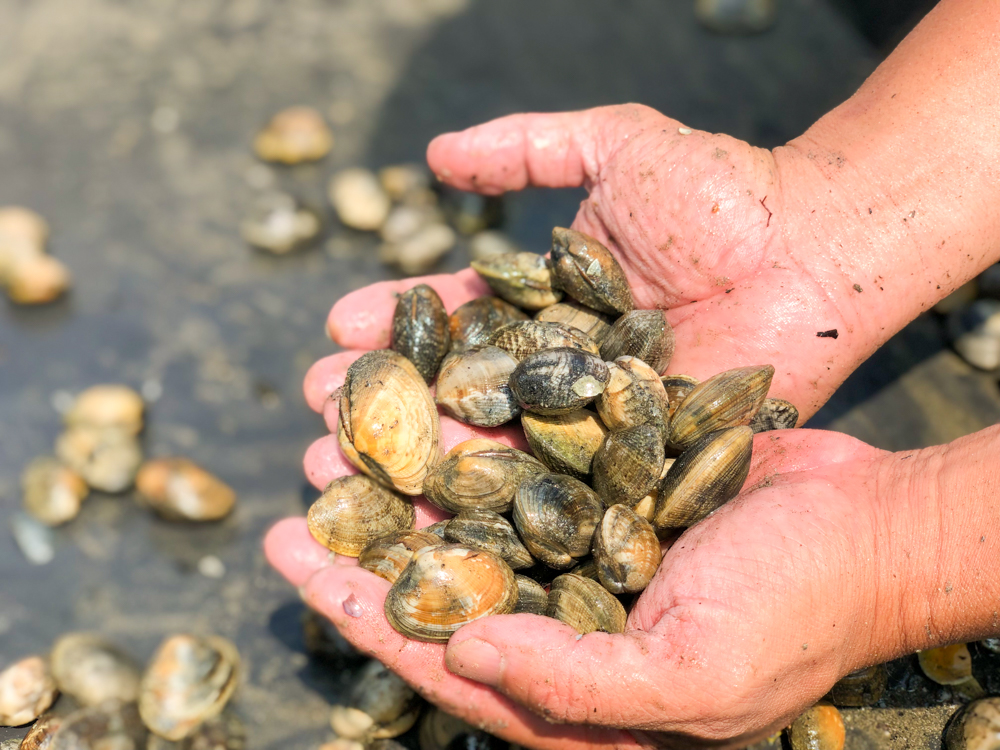 ASARI clam Farm Experience Tour
Asari clam is a type of clam popular and generally found as wild in the shallows. But this time, you will be able to see cultivated Asari clam, which is very rare!
One of the fishermen working with us found a new method of cultivating Asari clams and was awarded a special prize in the fisheries field.
During the tour, you will participate in the process of getting the fresh Asari clam from sand in the cultivating net.
We offer not only the above experience tour, but also the ownership of the cultivating Asari-clam.
Ask for more information if you are interested in raising up your own clam.
Recommended seasons:April to Late-May、July to September
Charges:Adults:¥4,000+TAX/Kids(age:6-13):¥3,000+TAX
(Experience tour + few Asari each for tasting)
*Available above 6 years old
*Minimum passenger count:From 6 passengers
---
【Important】
The model plans' contents and prices above are an example.
After asking your schedule and request, we will offer the most appropriate contents and its estimate.
Besides the tours above, we can offer you more interesting tours such as "harvesting mussel tour" and "Woman AMA divers tour". Feel free to ask for further information.

---
【Announcement for training camp plan w/ Fisherman's village activity】
This plan is for corporate customers, and is a training style which is collaborated with local fishermen to learn about local industry.
We offer a learning and training program that gives opportunities to improve team-building skills, communication and an innovative mind. The custom-made program can only be experienced in such a fisherman village.
【参考プログラム例】
●Talk or training session about primary industry or revitalisation
●Fisherman's job experience (harvesting oyster, clam or seaweed & etc)
●Production observing tour
●Beach clean
●Presentation session
●Wild island reclamation
●BBQ and party


<Fisherman's village activity> 
【Minimum passenger count】
From 10 pax

【Charges】
*We provide estimate for coming schedule and request contents
*Please send email to the mail address below for any enquiry

---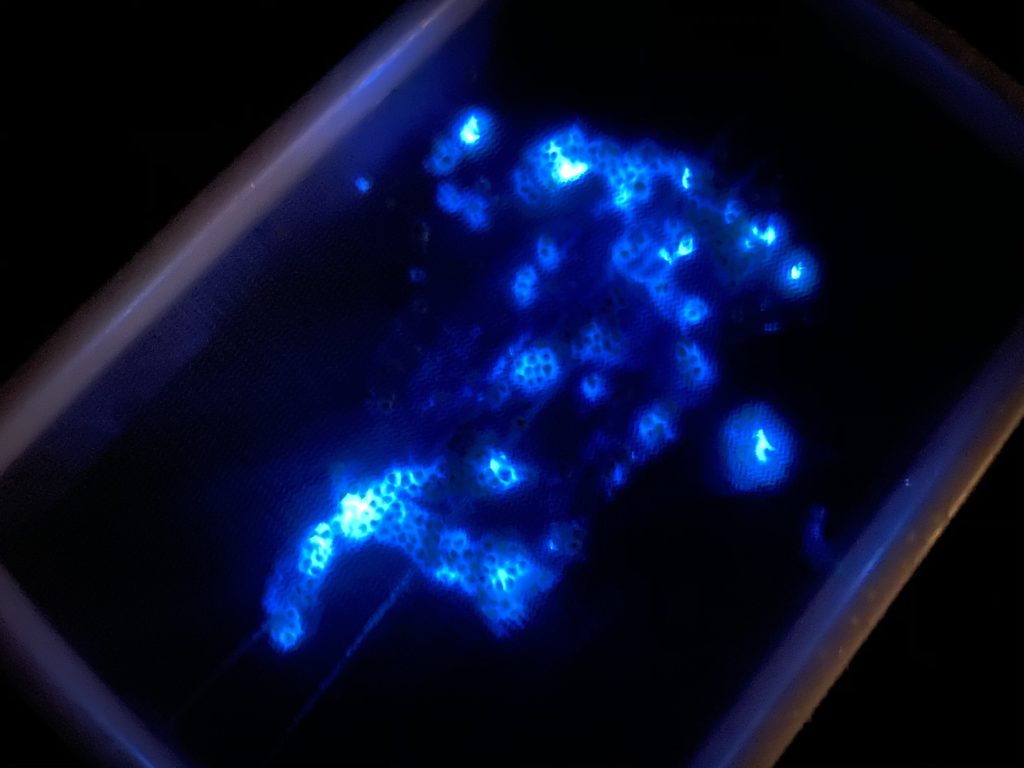 Sea-firefly Watching Tour
There is a UMIHOTARU tour held at the raft in front of our facility (Summer only).
Hope to enjoy the magical light made by natural invisible creatures.
*Some guests from neighbour accommodations may join this tour
Please be advised to close the curtains in your rooms to keep the darkness outside as the light of sea-fireflies are only visible in dark.
Tour seasons:Mid July – End of August
Tour schedule:20:00, 20:30, 21:00, 21:30 (4 times a day & 15 mins tour)
Tour fee:Free for the guests staying with us.

*UMIHOTARU tour (not an exclusive tour for our guests)  Held in Limited seasons (Mid July – End August)
*Tour is free of charge for those who cooperate to close the curtains in your room.
Please understand we may cancel the tour if you open the curtain and the tour gets distracted. 
【Tours run off-seasons】
¥500+tax〜/ person
Minimum participants: from 8 people
*Mid June – Mid July or September – Mid September
Starting time: 20:00〜 for 15 mins
---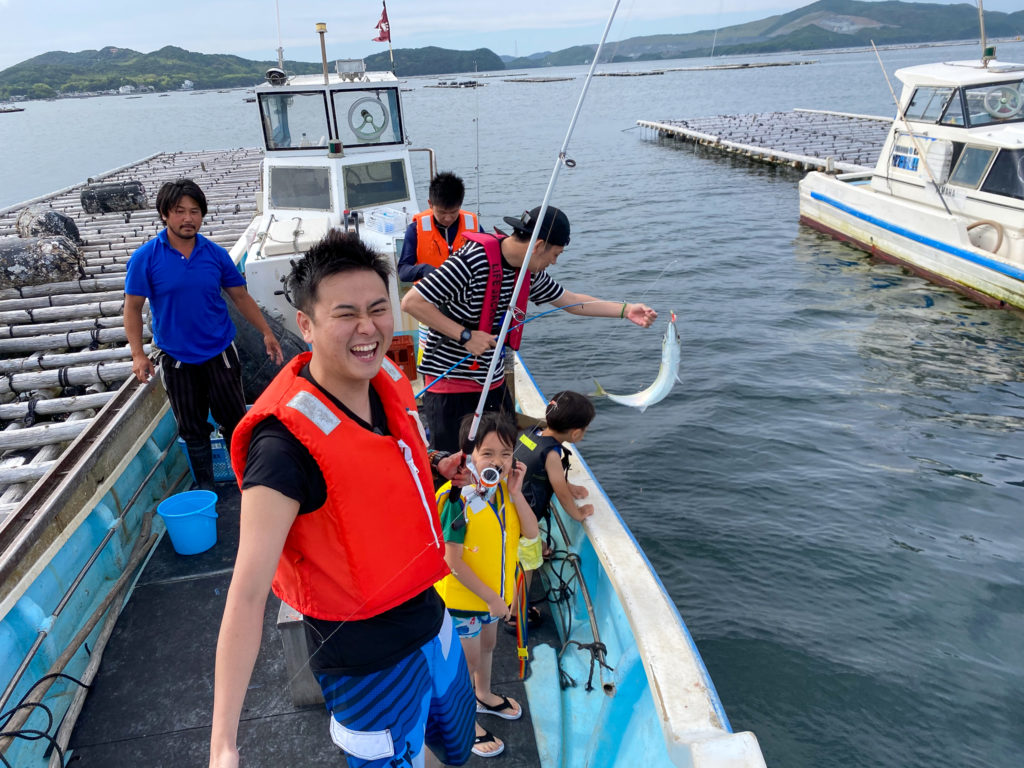 Fishing Tour
One fishing boat for a private use! (means the passenger is you and your people only)
By collaborating with local fishermen, we operate a boat fishing tour.
We take you to a pontoon boat by a fishing boat and let's try Sabiki fishing!
Sabiki fishing is popular and easy fishing so don't worry! even if you are a beginner.
If you are an experienced angler and want to go for authentic fishing, you may want to contact other fishing tours.

Expected types of fish:Horse mackerel, mackerel
*Please be reminded that fishing results may be depending on season or the weather of the day.
【Tour fee】2-4 pax
¥20,000+tax (fixed price)
(Extra ¥5,000+tax / person more than 4 pax)
Observing only passengers(5 to 8 people)
¥1,500+tax / person
*Minimum passenger count:2 – 8 pax
*The maximum pax that can go fishing at the same time is 4 pax. So rotate the fishing rods and share the fishing time.
Tour season:May – October *Cancel on rainy days / Reservation required
Time:1.5 hours per tour

4 sets of rental fishing rod,rig and balt are included
*If you wish to take the caught fish, please bring your own container to keep them fresh.
*Over 6 years old can join the tour. Tour fee for children is same as for adults.

*The information above is for one fishing boat. Upon your request, we may be able to operate more than one boat. If so, please contact us with your requesting number of boat, passenger and time.
---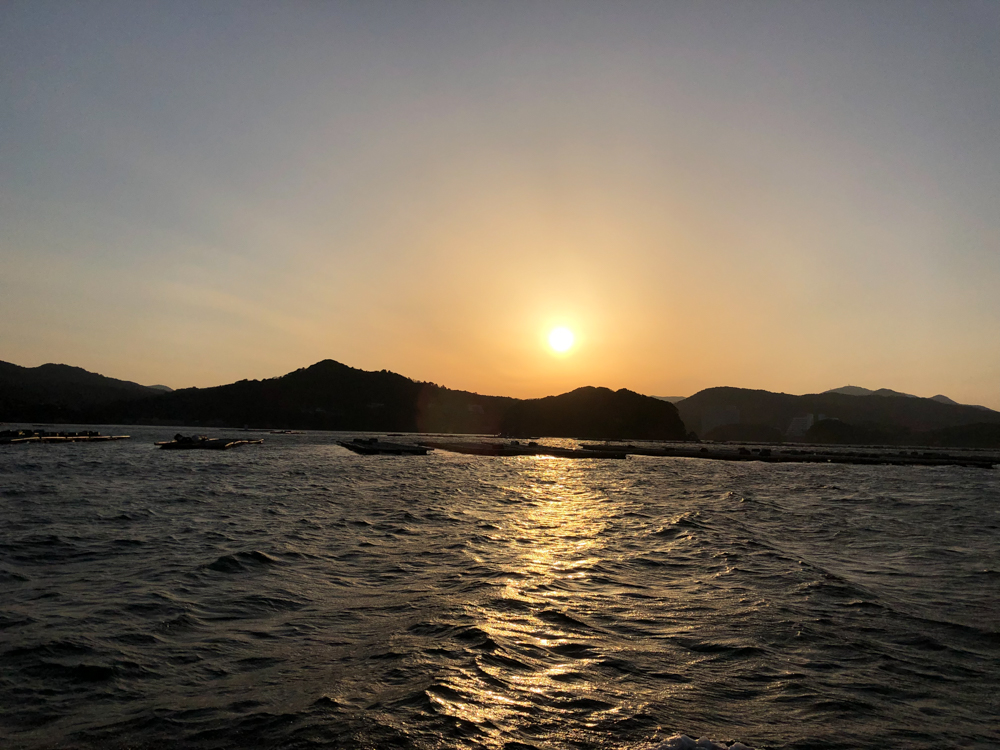 Fishing-boat cruising
We operate cruising tours using fishing-boat by collaborating with local fishermen.
The cruising boat takes you around many unique spots in the Ise-Shima area where you can feel the dynamic and beautiful nature.
【Tour season】*Cancel on rainy days
*Cancel on rainy days
【Cruising time】approx. 20 mins
【Recommended cruising time】40 mins before sunset
(If you go on checkout day, start after checkout)
【Tour fee】¥1,000+tax〜/ person
*Minimum passenger count:From 5 passengers
*Depending on reservation of the day, cruising may not be private (but with other passengers)
*Tour fee is fixed at any ages
---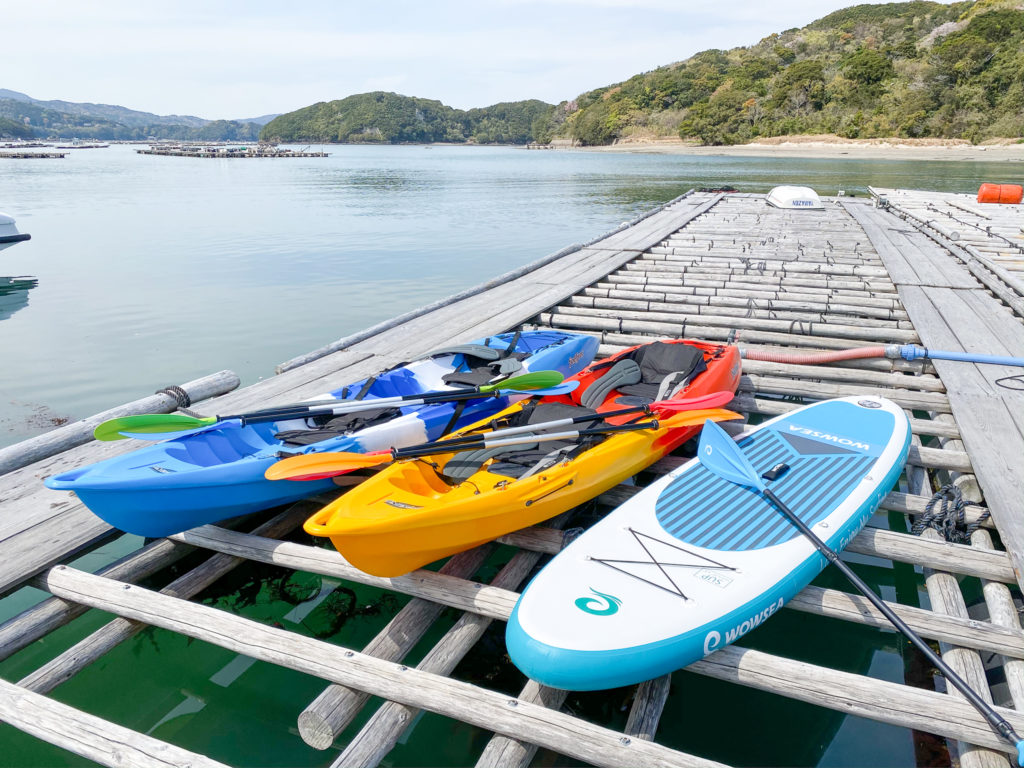 Kayak / SUP / Paddle Boat Rental
The entry point of the ocean is Only 5 SECONDS! from Anchor. Easy entry from the pontoon just in front. Feel the dynamic nature of the Ise-Shima area by using those rental gears.
Check "OPTION & FOOD" page for further information.
*By considering the safety first, we may stop the rental service due to the bad weather.
Making payment on the day is cash or PayPay only available.
Make sure to wear a swimsuit or wetsuit to enjoy the activities.
¥5,000+tax / boat
(Life jackets & oar included)
【Number of items that can be rented】
Kayaks:2、SUP:1、Paddle Boat:1

Available seasons:April – October
(not available during winter)
---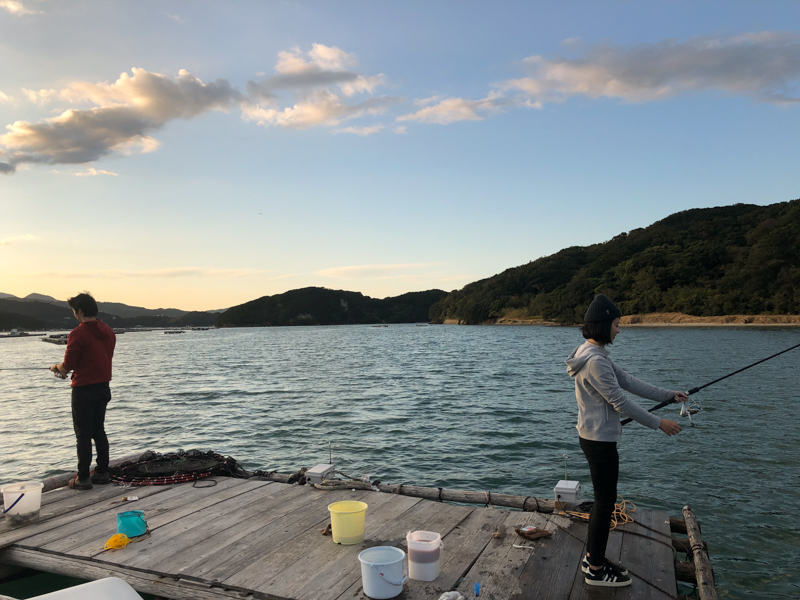 Fishing rod rental
Fishing rod rental which you can enjoy fishing from pontoon in front of Anchor.(Up to 4 fishing rods are available)
¥1,000+tax〜/ rod
(pole and reel)
【Number of items that can be rented】
4rods
*Rig and bait are not included in above rental(Rig for Sabiki and bait are sold in Anchor.)
---
Contact.
info@anchorajito.com
For the purpose of keeping the record, please send an email through "Contact".
The contact number will be announced when your reservation is confirmed.
Anchor. FISHERMAN'S AJITO English Page Menu